Cobb County Real Estate Inventory
We've all seen the national news regarding the low housing inventory across the country. Let's take a more localized look at the Cobb County real estate market.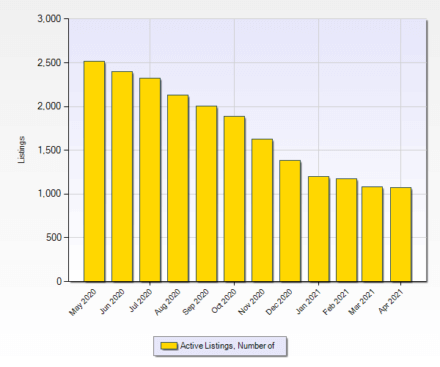 As of April 19, 2021 our available housing inventory across Cobb County shows 1,076 ACTIVE listings in the First Multiple Listing Service. That number is well below our average of 2,664 active listings during the same month over the last 5 years.
A decrease of approximately 40% in the number of active listings during the spring market has created one of the strongest SELLER'S MARKETS in history.
In this strong seller's market we have seen a steady increase in the average sales price aligned with a strong decline in the average number of days on market. In other words, homes are selling for more money in less time than in the previous 12 months.
The average sales price in Cobb County has jumped from $328,833 in May 2020 to $403,062 in April 2021. An increase of nearly 23%!
Cobb County Real Estate: A Closer Look
Let's drill down a little further and look at the real estate market at the city level between 2016 and 2021.
Marietta Real Estate Market
Over the last 5 years, active real estate listings for single family homes in Marietta have averaged 1,066 in the month of March. In March 2021, the total number of active listings was 503.
The sales price has risen from a 5 year average of $334,304 to $429,479 in March 2021.
Just Listed in Marietta
Powder Springs Real Estate Market
Active listings in Powder Springs have decreased from a 5 year average of 237 in March to just 87 in March 2021. The average sale price has increased more than 54% over the same period to $319,715.
Just Listed in Powder Springs
Kennesaw Real Estate Market
Kennesaw showed just 113 active listings in March 2021 compared to a 5 year average of 269, a decrease of more than 42%.
The average sales price of $351,101 has risen year over year from an average of $246,007 in March 2016.
Just Listed in Kennesaw
Acworth Real Estate Market
The average sales price in Acworth has jumped from $236,774 in March 2016 to $353,225 in March 2021 while active listings have fallen from an average of 377 to just 155 in 2021.
Just Listed in Acworth
Smyrna Real Estate Market
As of March 2021 there were only 129 active listings for Smyrna. compared an average of 325 over the previous 5 year period. Smyrna has also seen a jump in average sales prices from $284,499 to $395,185 in March 2021.
Just Listed in Smyrna
Austell Real Estate Market
Even in smaller markets like Austell we have seen a dramatic increase in the average sales price, jumping nearly 72% from the 2016 average of $118,934 to the March 2021 average of $204,612.
The number of listings has fallen from the high of 120 in March 2016 to just 36 in March 2021.
Just Listed in Austell
Mableton Real Estate Market
From an average of 139 active listings to just 45 in March 2021, Mableton has kept step with the rest of the Cobb County real estate market. The average sales price of $259,816 in March 2016 has jumped to $365,970 in 2021.
Just Listed in Mableton
Cobb County Real Estate: What to Expect
In a strong seller's market, like the one we have in 2021, it is important that buyers and sellers are financially and psychologically prepared for the competitive nature of the process.
For sellers, whether you are relocating across town or across the country, you need a plan. In addition to a solid team of real estate advisors to help you navigate the process of selling a home and buying a home at the same time.
Your real estate agent needs to prepare you for receiving multiple offers on the home your are selling. They should explain the differences between each offer. You should have a firm understanding of inspection, financing & appraisal contingencies, various loan types, post closing occupancy, and the penalties for seller default.
It is not uncommon for sellers to receive 10, 20 or even more offers on a desirable listing.
For buyers, you need a mortgage pre-approval in hand before you schedule on showing. It's important that you have adequate financial resources to cover your down payment and most, if not all, of your closing costs. In the current market, seller concessions are rare, prepare for that.
It is likely that you will be in multiple offer situations. Your real estate agent should help you craft the best offer you can while protecting your earnest money and financial position.
This competitive Cobb County real estate market will surely be one for the record books.
If you have questions about buying or selling your home, please feel free to call me at 770-374-4230 or email me at JennaDixon@outlook.com.