The Best Staging Tips to Sell Your Home FAST!
Staging A Home to Sell Fast: the goal of every home owner should be to appeal to the most buyers within the target pool of prospective buyers.  While there are variations in expectations by price range, here are some general tips that can help place your home head and shoulders above the competition.
Remember, you don't SELL YOUR HOME the same way that you live in your home.
You are producing a product that is being offered for sale. Appealing to a wide range of potential buyers through staging gives you best chance to sell your home more quickly for the highest possible price.
When it comes to homes, THE EYE BUYS!
Take Staging Tips from New Construction
Looking a new construction can help you stay abreast of the trends in real estate. The majority of homebuilders employ experienced interior designers to make their homes stand out.
You can see what is trending in paint colors, flooring, cabinets and lighting by visiting new home communities or simply scrolling through the images online.
Taking staging tips from these design experts will help you present your home to its best advantage!
Curb Appeal Counts When Selling Your Home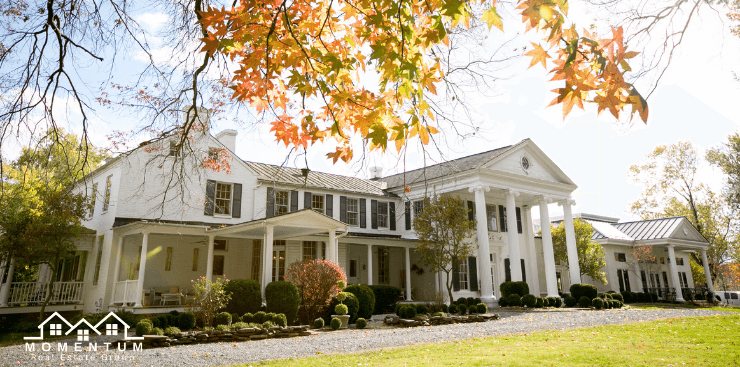 Paint & Exterior Maintenance
Preparing your home for the real estate market starts with taking care of any deferred maintenance items. Faded, peeling or worm paint makes your home look like it has not been take care of properly. We recommend contacting a reputable painting contractor to make the necessary repairs and apply a fresh coat of paint.
Other exterior maintenance tasks could include: pressure washing, gutter cleaning and window cleaning.
Pro Tip
Don't Forget to Replace All Burned Out Light Bulbs
Landscaping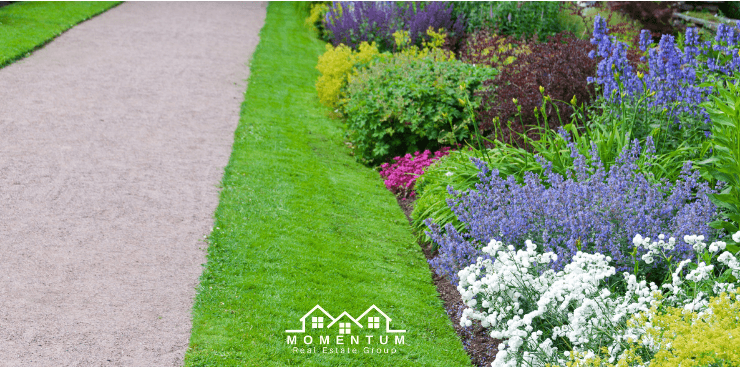 You never get a second chance to make a first impression.  Do not underestimate the impact that a well-manicured lawn, lush landscaping and a welcoming entry can have on a potential buyer.
Pruning bushes and trees, installing fresh ground cover in planting beds, pressure washing walks, patios, decks and driveways gives the buyer the feeling that they are seeing a well maintained home.
Pro Tip
Add Flower Pots By the Front Door to Brighten the Entryway
Outdoor Living Can Increase Your Home's Value

The majority of today's home buyers are looking for some sort of outdoor living/entertaining space.  Don't miss the opportunity to give them what they want.  Clean and decorate that unused deck or patio space in a way that asks buyers to relax and stay just a little longer.
Make sure that you create a focal point, whether it's a centerpiece on a table or a fire pit, find a way to engage the buyer.
Screened porches & sun rooms are a great way to boost your home's value.
Pro Tip
Stage Your Patio or Deck To Encourage Buyers to Linger Longer
Staging Your Home Interior: Room by Room
First Look – Foyer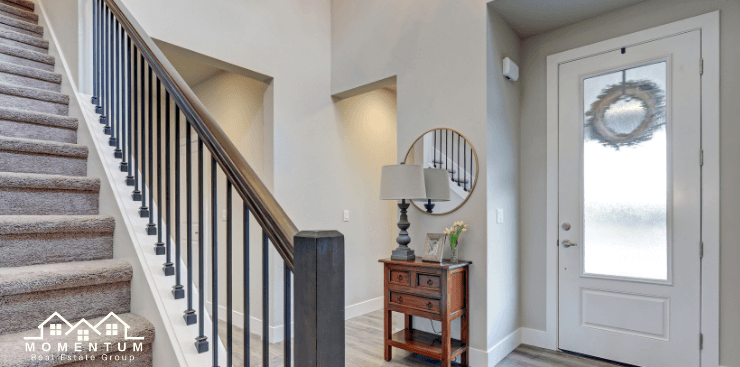 Whether the entryway of your home is small or large, when the front door swings open, BUYERS MAKE A DECISION.  Yes or No.  The entry must draw buyers in and entice them to want to see more.
Sights and smells need to say, "Yes!"
Clean, bright, cheerful and welcoming with a clear path into the heart of the home is the goal with the entry.
Lead Them and They Will Follow-Traffic Patterns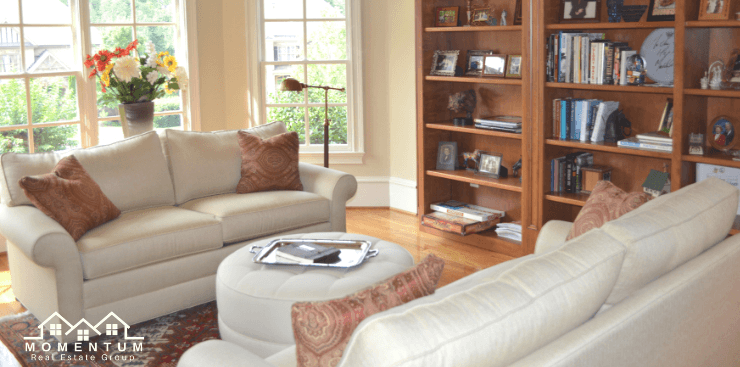 When it comes to staging a home to sell fast, having a well thought out furniture plan is very important.  All homes were built with a particular flow in mind.
Good, bad or ugly, make the most of what you have by arranging furnishings to maximize the flow and traffic patterns of your home.
Blocking doors or windows with furniture is a big turn off and leads buyers to believe that they will have difficulty "fitting" into the space.  It is far better to have fewer furnishings and more floor space.  Too many furnishings can highlight potential problems.
The Importance of Kitchens in Staging A Home to Sell Fast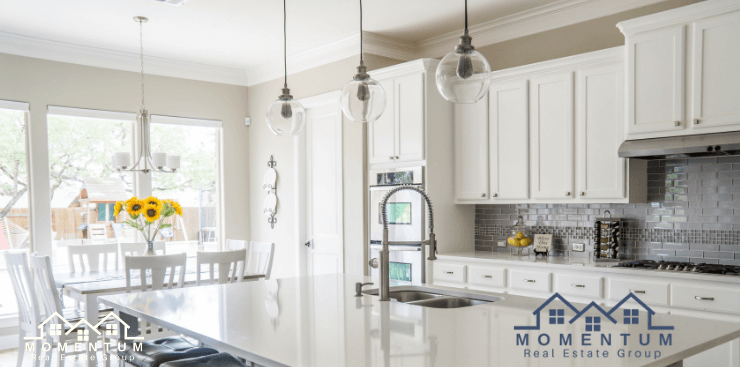 Cluttered counter tops, food smells, dirty dishes…even with the latest and greatest in finishes and top of the line appliances, will kill the deal.
Having your home in "show ready" condition at all times is one of the hardest parts of selling a home.  And yet, it must be done.  No one wants to have a look at your dirty dinner dishes or smell the anchovy pizza you had on Wednesday night.
Pro Tip
A clean and fresh smelling space can overcome a lack of upgrades!
Bathrooms + Bleach = SOLD!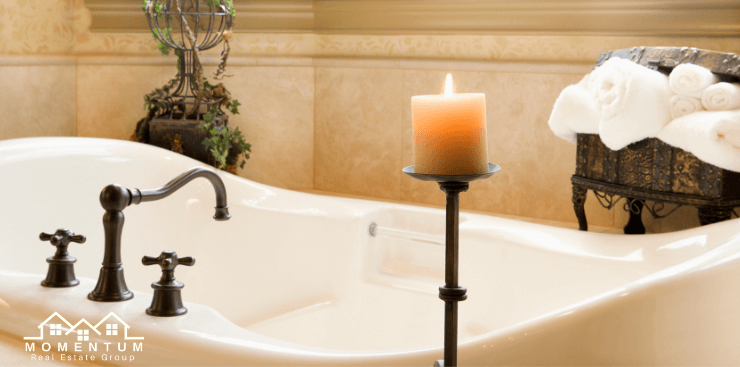 When it comes to bathrooms, studies show that buyers prefer a FAINT smell of bleach to any other odor.
So get in there and clean that room to within an inch of it's life!  Remove the clutter, put out fresh, clean WHITE towels and close the toilet lid.
Maximize the natural light and make sure that all bulbs are bright.
Bathrooms are one of those personal spaces that many sellers struggle to keep "show ready".  To help keep counters clean, consider investing in a few key organizational items that can be quickly stored out of sight every morning.
Bedrooms Are For Sleeping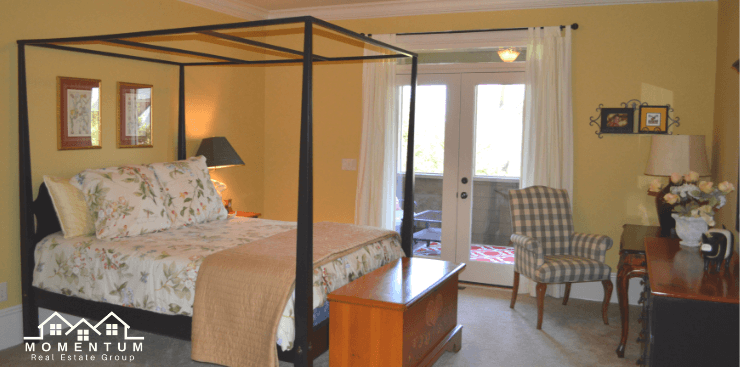 The truth is, the more bedrooms you have the easier it will be to sell your home. Staging each room with a bed makes good sense.  Even if you are using one of the bedrooms for another purpose, temporarily re-arranging the space to incorporate a bed will reap dividends.
Staging your home to sell fast may mean that you have to give up the home office or craft room for a few weeks…make sure that the 4 bedroom house shows 4 usable bedrooms!
Pro Tip
Use an Air Mattress As An Affordable Alternative
Final Notes on Staging a Home to Sell FAST!
Keep artificial smells to a minimum, don't go overboard with air fresheners.  Too many can lead a buyer to believe in a cover up!
Board or kennel house pets for the time that your home is on the market.  It will help reduce liability issues, it will be less stressful to the pets and eliminate problems for buyers with phobias and allergies.
DO NOT SMOKE inside your house. End of story.
Open blinds and draperies whenever possible to flood your home with natural light. *Make sure there are no burned out or missing light bulbs.
Keep the home cool in summer and warm in winter.
More Resources for Staging A Home to Sell Fast:
Home Staging Can Help Sell Home for More, Realtors® Say
Sellers: The Benefits of Staging Your Home
5 Reasons Your Home's Staging Might Not Be Awesome (Even if you think it is)
Staging Advice from an HGTV Designer
Contact Us