Marietta Homes for Sale
Marietta Homes for Sale by Zip Code
Browse by Zip Code
Just Listed in Marietta
Single Family Homes for Sale
We SAVE You Money on New Homes!
Condos & Townhomes for Sale
Browse Marietta Homes for Sale by Price
Browse By Price
Marietta Zip Code Map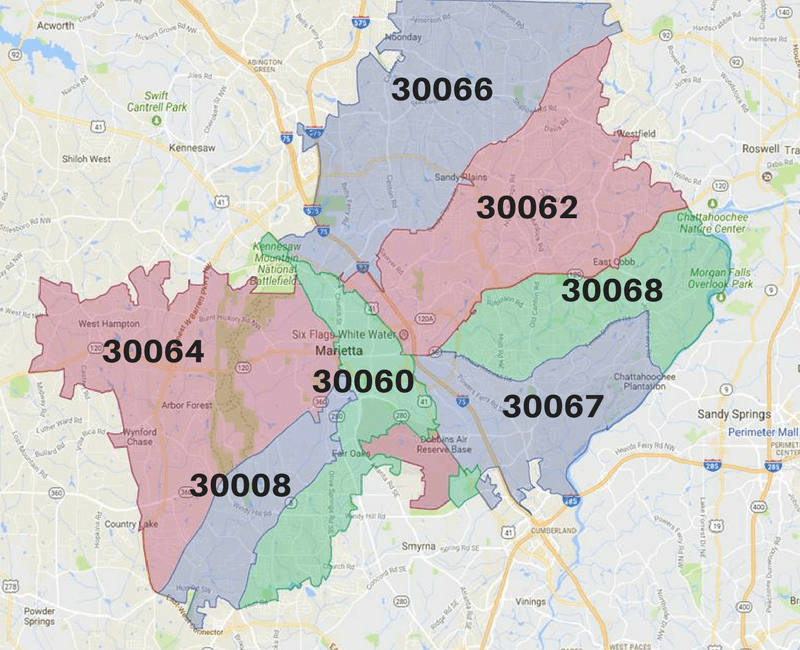 Living in Marietta GA: A City With History & Distinction
The City of Marietta covers roughly 23 square miles and is home to nearly 60,000 (2013) residents, another 250,000 populate the unincorporated addresses.
Marietta is divided into East & West sections along the Interstate 75 corridor. East and West Marietta both present appealing and distinct differences.  Zip codes on the east side include 30062, 30066, 30067 and 30068. Zip codes on the west side include 30008, 30060 and 30064.
In 2006, The National Civic League proclaimed Marietta as one of the 10 best communities in the nation as an ALL-AMERICAN CITY.  In 2011, CNNMoney.com named Marietta one of the top 25 places in the United to retire.
Before Atlanta, there was Marietta! Cobb County was created in 1832 and the city of Marietta was recognized in 1834 (incorporated in 1852). Like most small southern towns, Marietta grew up around a central town square and a railroad. The park that now marks the center of the town square is named for the city's first mayor, John Glover.
Marietta GA has it's own unique style and ambiance. The city marries both the small town flavor born of it's history and the suburban hub that it has grown into. Here you will find all of the local shops and restaurants you desire alongside the big chain retail establishments that you are accustomed to.
Sell Your Home In Marietta GA
Marietta GA Video Tour
Marietta Homes for Sale in Popular Neighborhoods
30008
30064
Marietta Homes For Sale by High School
Browse by School District
Marietta Real Estate Market Report
Contact Us