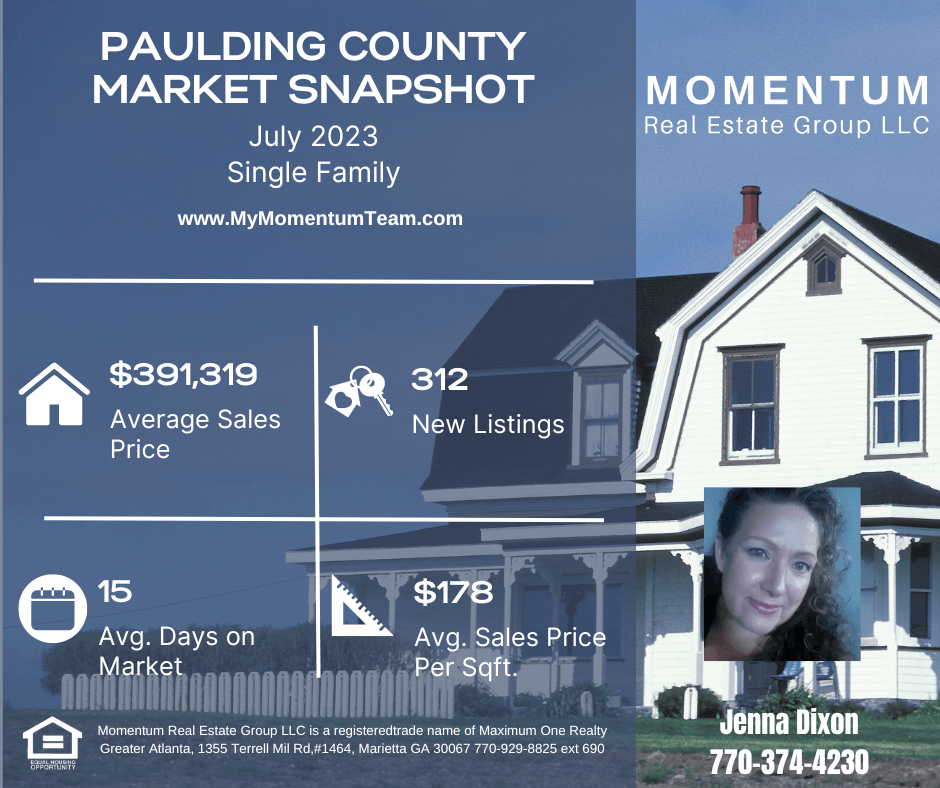 July 2023
The Paulding County real estate market showed a slight up-tick in the average sales price for the month of July of just 2.1% to $391,319. However, there was a decline in the average price per square foot to $178.
Housing inventory remains at near historic lows. New listings for Paulding County were down 29% to 312 for the month of July, compared to 441 in July 2022.
Interest rates have continued to rise, pressuring home buyers into carefully considering their options. While there is still demand from first time buyers, those considering a move up or downsizing are still hesitant about listing their homes for sale.
Buyer hesitation in light of rising interest rates has driven the average days on market up 114% to 15 days.
We are still in a strong seller's market with low inventory and pent up buyer demand. New construction is boosting inventory across the county and will continue to be important in achieving a more balanced market.
Hiram
Average sales price: $329,562 -4.9%
Average price/sq ft: $188 +6.8%
Average days on market: 21 +23.5%
Dallas
Average sales price: $392,307 +1.7%
Average price/sq ft: $180 -1.1%
Average days on market: 33 +120%
Paulding County Real Estate Market: Up to the Minute
Get In Touch